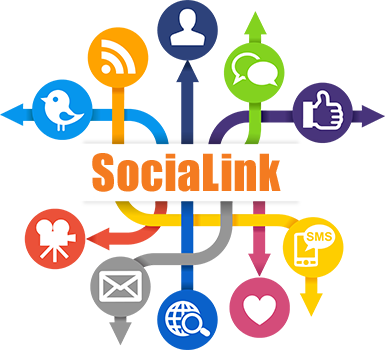 SociaLink - Hello World!
Social media marketing is successful when you are constantly posting updates and having real-time interaction with your clients. However, who has time for all of that?
What you need is an easy-to-use tool that streamlines your social media marketing needs. SociaLink publishes content, finds real-time leads, and searches for content. With SociaLink, businesses can build loyal followers and revenue through the use of social media.
SociaLink – Social Media Marketing
Spend less time while driving better results – our easy-to-use social media platform make this possible.
Monitor Facebook, Twitter, Google +

Manage your business social media campaigns in one easy-to-use platform, saving time and money.

Schedule Posts in Advance

You can schedule your posts and preview your content before you publish, allowing you to quickly schedule future posts.

Track Social Activity From Your Dashboard

Receive timely feedback on your posts allowing you to see content that is favorably received.
Interact With Real Time Business Leads

Lead generation is the fastest way to find red-hot business opportunities through social networks. You can monitor up to 25 miles from your location.

Platform Resides in The Cloud

You can access your social media platform 24/7, no matter where you are located. This convenience allows you to monitor your presence even on vacation.

Discover and Reuse Content Easily

Thinking up new things to say on social media can be difficult. Our platform allows businesses to gather articles, posts and any other content that's relevant to your local audience.