Are you a "luke-warmer" regarding online reviews? Have you ever mentioned the following?
"I know reviews are important but I just don't have the time"
"I wish getting reviews was easier"
"No one really bothers to read reviews anyway"
"Reviews don't really impact my business"
"I have some reviews already"
If you uttered any of the above, you are probably in denial regarding online reviews. Here are 5 reasons that may save your business.
1.     Google Reviews – Website Ranking Factor
Google Maps now heavily incorporates online reviews into their website ranking algorithm. The algorithm calculates review quantity, review velocity, review diversity, etc. This increased algorithm emphasis not only affects Google Maps, but also the Search Engine Results Page or more commonly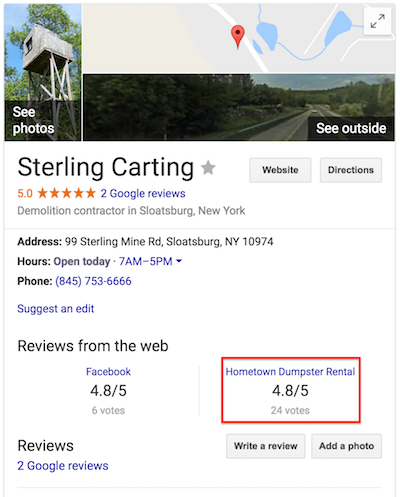 called, the "organic listings".
It only makes sense that Google would rely on the public to list the best companies at the top of the search results page. Why? Remember, a searcher that uses the Google search engine is a customer of Google. Not yours. This is important to understand, Google doesn't care if a business employs good people or operates a great business. They use algorithms (robots) to rank businesses either first, last or somewhere in-between. Businesses need to show them that they run a great business by letting the public respond in the form of online reviews. If they have bad reviews it gets reflected, if they have little or no reviews, it gets reflected.
Customers want information about a business, little or no reviews is the same as having bad reviews.
2.    90% of Customers Are Influenced by Online Reviews
Have you heard of ZMOT (no, it's not a new electric car)? This is Google's comprehensive consumer study titled "The Zero Moment of Truth" or ZMOT for short. The study examined how buying decisions are made today. Past consumers used to use three decision buying steps (stimulus, shelf, experience). Today, a fourth buying step developed called "The Zero Moment of Truth". This is when customers do research, consisting of looking online at reviews, websites, search for coupons, comparison shop, etc. They do this before they head to a store or pick up the phone to call a business. In fact, Dimensional Research (online research company) study results show that 90% of customers say buying decisions are influenced by online reviews. Moreover, a high-value purchase decision yields more online research by the customer. If a business doesn't have reviews and the competition does, who do you think generates more trust (with consumers & Google)? Read More