We hear this question quite often from demolition contractors. It usually goes something like this, "I would like to advertise online, but I don't have a large budget or I'm not sure it is worth it". Online advertising can be a bit scary, especially if you haven't had the time to research available options. Many small businesses typically don't have tons of cash lying around for their marketing budgets and with what money they do have, they certainly don't want to waste it.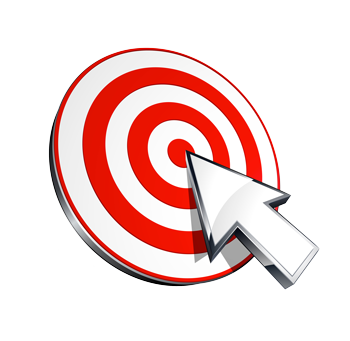 This article will help sort out available options and to raise your level of online advertising knowledge.
Online advertising falls into a few categories, such as:
Paid Search Advertisements (AdWords) – Google, Yahoo, and Bing
These are small advertisements that show up on the top and side of the Search Engine Results Page (SERPs) based a searcher's query.  The price is based on a bidding model; you compete for placement on the page. The higher you are willing to bid per click, the more likely a searcher will land on your website.
Consumer Websites  – Angies List, Home Advisor, Hometown
Consumer friendly websites do most of the work for you. They help educate the consumer, the leads they generate tend to be of a higher quality. These websites are geared toward the consumer, which is why they collect reviews and other information about your business.
Consumer Directories – YP, YellowBook, SuperPages
Paper phone books are dying a slow death, so these online directories are taking their place. These directories serve many purposes, from listing your accurate business information to generating leads. These business listings are also indexed by search engines, so you can acquire a trusted link for your website. Making sure you have accurate, up-to-date listing information is very important.
Organic Search – Company website displays on Search Engine Results Page (SERPs)
This is where your business website may show up on the SERPs, depending on the search query. Business websites are the primary advertising vehicles. In fact, they should be your number #1 advertising tool. This doesn't mean you are guaranteed to show up on the SERPs, but without a good website, you have zero chance of showing up anywhere. A mobile responsive website is paramount if you want to have any success with online advertising.
Review Websites  – Yelp, Google Plus, Kudzu, Citysearch
People are talking about your business, whether you like it or not. Review sites are extremely important and you should claim your listing or create a new one. This way, you can respond to either positive or negative reviews of your business. You should incorporate a review strategy to develop a positive review presence.
Social Media  – Facebook, Twitter, Google Plus, Pinterest
Who doesn't use social media? Social media allows communication to your past, present, and future customers. Keeping a dialog with this source of business is very important. They may not need your service or product today, but seeing your continual presence may remind them when the time is right. Plus, this is a great way to engage your customers.
The above list details the most popular online advertising choices available, there are others. Talk to local businesses and see what types of online advertising they use. The good news, you can start with a very small budget and increase it over time as you grow your demolition contracting business. Online advertising can cost as little as a few dollars a day (improve business listings) to several hundred dollars a month (if you any combination above). A good starting point is to decide where your business is located in your growth phase. In other words, are you a new business or a seasoned business?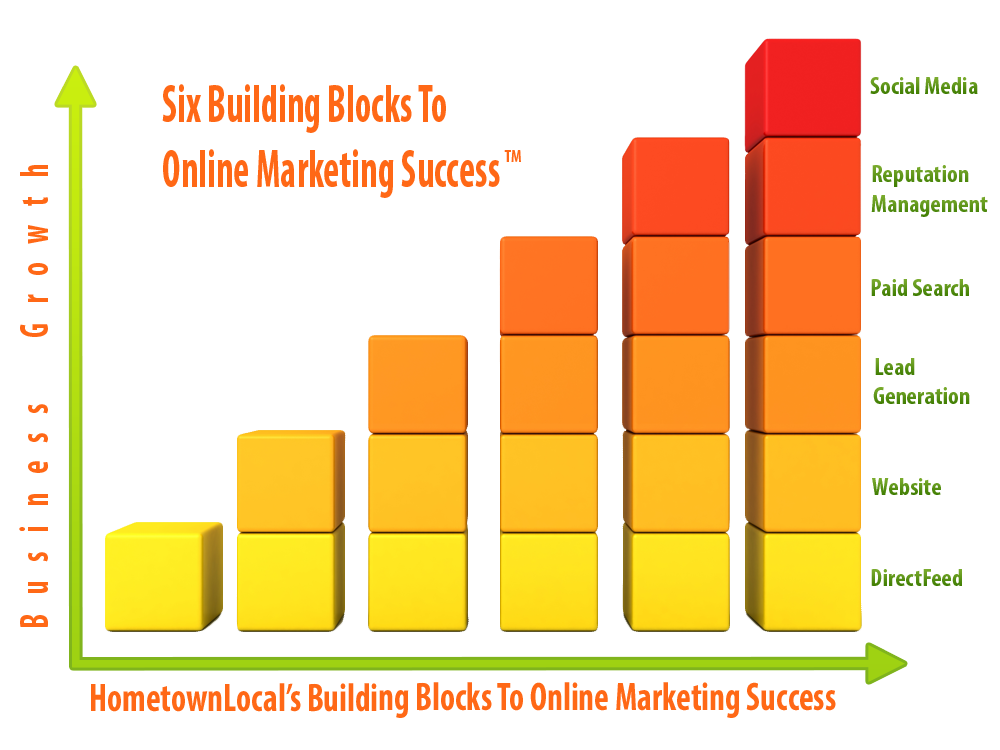 Check out a visual representation of HometownLocal's "Six Building Blocks to Online Marketing Success™". This graph illustrate where your demolition contracting business might be today and the types of online advertising that may be appropriate.
Lastly, you have many online advertising arrows in your quiver, so don't think you need to rely on just one good shot!