How you create business relationships with potential clients is the #1 key to a successful bid.  Learning the skills required to make that first point of contact – the initial phone call – is something that can improve your overall achievement to winning the job. A phone call may seem like a no-brainer, however many contractors are turned down, simply because they missed the mark on that initial phone call.
Contractor Phone Tips:
Answering the Phone – The Right First Impression…
Before you even pick up the phone be sure that you are in a place you can speak. Answering the phone at the grocery store with the kids, in Home Depot aisle 7 or at a loud job site does not make a great first impression. Be sure that you can hear and be heard, as well as be available to write down any information you may gather from the potential client.
It may seem obvious, but in the midst of other things going on, you may grab the phone and scarf out a quick, "Hey." What that says to a potential client is that you do not take your business seriously, or perhaps they even dialed the wrong number. They will probably move on to the next name on the list.
"Thank you for calling ABC Roofing, this is Jim, how can I help you today?" would be a much more appropriate and professional way to answer. This tells your client all the information they need to know right from the get-go. You are professional; you are personable and able to provide them with the bid that they are looking to get.
It is often helpful to practice a few times so that is seems natural and not scripted. Introduce your business name, then yourself and simply ask how you can be of service.
Now What?
Once a prospective client has explained their situation it is definitely important to maintain a rapport of listening and responding to their situation and needs.  Asking clear questions, reassuring doubts that the client may have, offering experience and possibly referrals, as well as setting up the bid appointment are all key aspects to the initial call.
You want your prospect to get off the phone feeling they had their concerns addressed, that you know your business and you can solve their problems. Responding to questions with, "Um," or "I dunno" during the conversation sends the message that you may not be competent enough to take on the job.
Be assuring and courteous in your tone and allow the client to see you know what you're talking about. If you are truly unsure of something it is completely appropriate to say something like "I will definitely look into that issue and get right back you."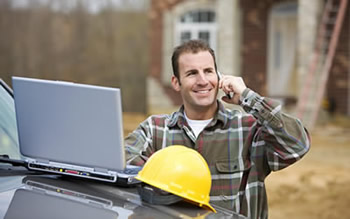 At the end of the prospective phone call be sure to have a pen and paper handy to write down pertinent information – Name, Phone Number(s), Address and Job information should all be recorded in a notebook or on a computer.
There is a new trend of asking clients to text all of their information to the contractor. This is both unprofessional and unacceptable. Having competence to handle the job means all aspects from handling information collection all the way through billing and completion – no laziness allowed.
Voice Mail – Another Type of First Impression
Setting up voice mail to reflect a professional manner is crucial to reaching potential clients. Just like your phone answering techniques you want to create a friendly, yet knowledgeable voicemail message. Here is a sample voice mail you can tailor to your business:
"Hello. Thank you for calling ABC Repairs. (You can insert your tagline if you have one) We are so sorry that we are unable to answer your call at this moment, as we are out in the field. If you leave your name, telephone number and a brief message explaining how we can be of service we would be happy to give you a prompt return call as soon as we are back in the office. Thank you for thinking of us and have a great day."
The Follow Through
Often a prospective client gets the dreaded voice mail. Once they leave a message the waiting game begins. The first contractor to actually return the call, promptly, has the edge. Checking voicemail and waiting a day or two to respond will most likely make you miss the bid.
Additionally, if you tell a client you will get back to them with information – do it and fast. With an economy declining, contractors are all chomping at the bit to win the job. The turtle never wins the race in the contracting business – so be sure to return to the client, with the information they are seeking ready to go.
Answering Services – Are They Worth the cost?
For a solo contractor, or for a smaller business, it may be a worthwhile investment to hire an answering service to be available when you cannot. Statistics show that 3 out of every 5 prospective clients will just hang up when they reach the voicemail and move on to the next name on the list. In addition, over $2000 dollars per missed call (based on roof replacement costs of $6-$8,000) are lost as well as the closing of 1/3 of leads.
To avoid missing out on this huge loss, an answering service gives prospective clients the opportunity to get a human and get to you quicker. Waiting to pick up messages on a voicemail can again, create a lost bid as the potential client may have heard back from another contractor sooner. Answering services can often pay for themselves in a short while as you have the ability to get return calls with a much faster turnaround rate.